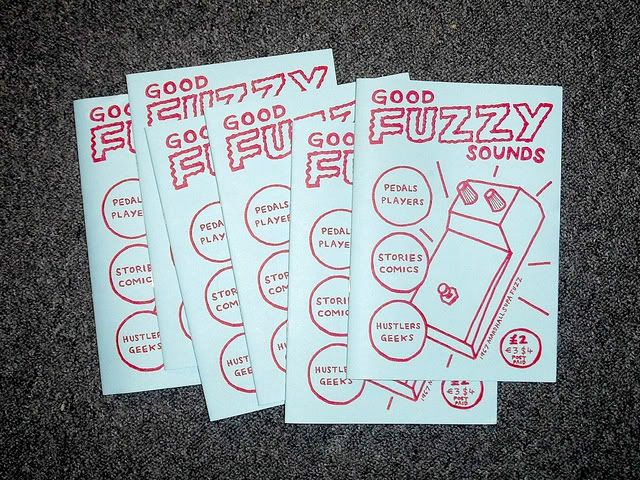 All right - I've done a zine about fuzz - it's called Good Fuzzy Sounds, it's written and illustrated by me, is 28 pages long and costs £2 or €3 or $4 post paid.
It covers my own first experiences of fuzz and diy pedal-building, a detailed two-part history of early fuzzy sounds on records up to 1961, leading to the Maestro Fuzztone in the US and the Tone Bender in the UK, the growth of internet fuzz geek networks, the mythology of the mojo transistor, and interviews with Pepe Rush, an early fuzz innovator on the London scene, and Devi Ever, graduate of the internet DIY pedal scene and modern fuzz goodess. Plus 'my favourite fuzz', a true life story comic strip, drawings of all 33 of my fuzz pedals, and fuzz luminaries such as Gary Hurst, Vic Flick, Big Joe Sullivan, Lee Hazlewood, Glenn Snoddy, Craig Anderton and many more. It's all fuzz, all the time, printed in red on beautiful pale blue paper. It even explains what fuzz is if you don't happen to know. It's a winner!
Pay by Paypal in the currency of your choice, and don't forget your address. It will probably be in a few shops and distros sometime, but for now it's available direct from me only. Email address for Paypal - thesimonmurphy@yahoo.com - £2 or €3 or $4 postage paid.